VLS Desktop Series
Laser Technology on Your Desktop
The VLS desktop range of laser systems sets the standard for affordable laser processing solutions. Simple to use – with minimal training a novice can achieve outstanding results using the innovative Materials-based driver.
The VLS Desktop laser solution allows your products to be a step ahead of the competition with great results for our customers in market places such as Etsy & Not On The High Street.
Other laser advantages include a heat and scratch resistant laminated glass window in the access door, an overheating detector that will shut off the machine and sound an alarm in the event of a fire and an intelligent laser cartridge with high accuracy pulsing allowing clear and repeatable laser engraving results.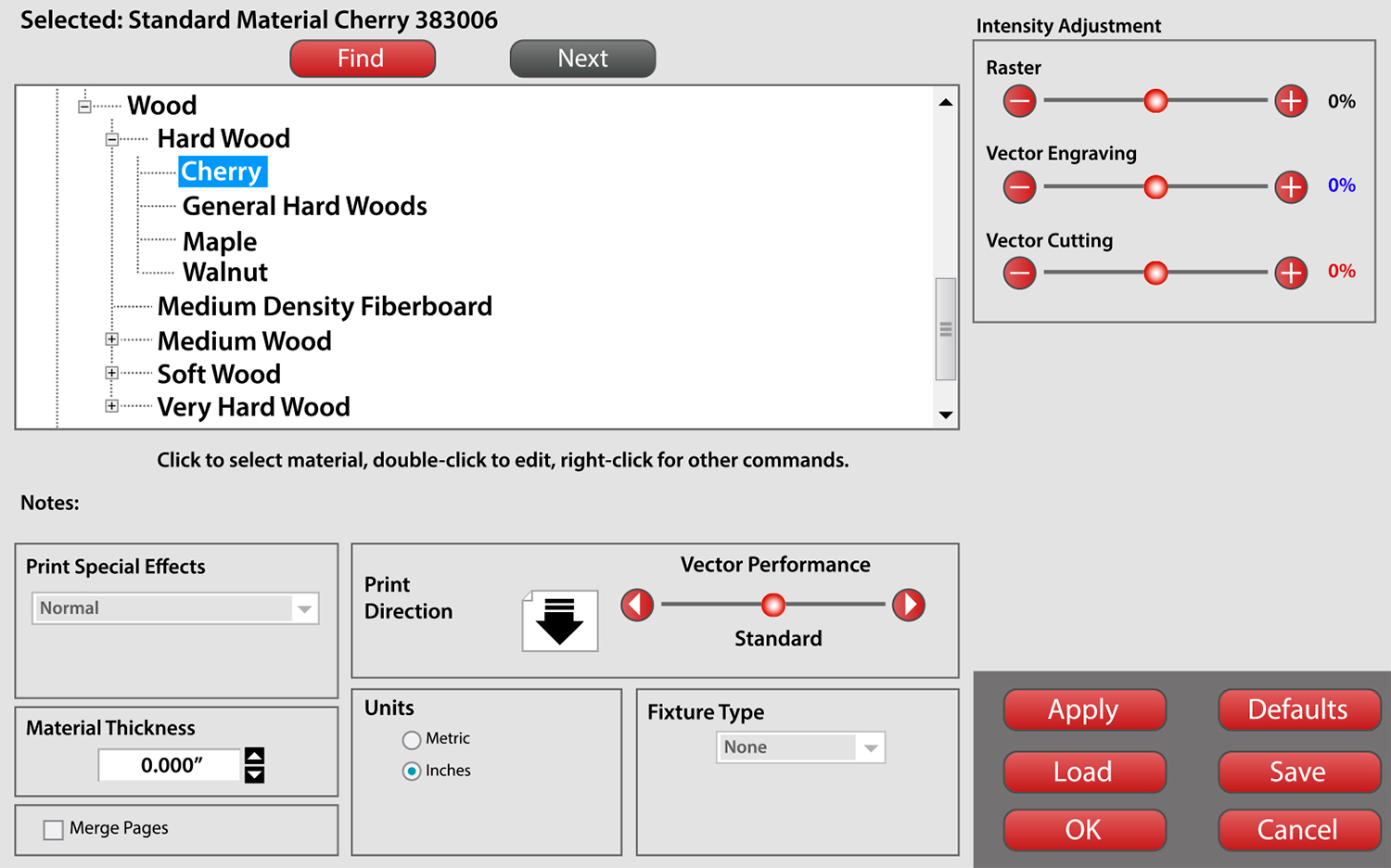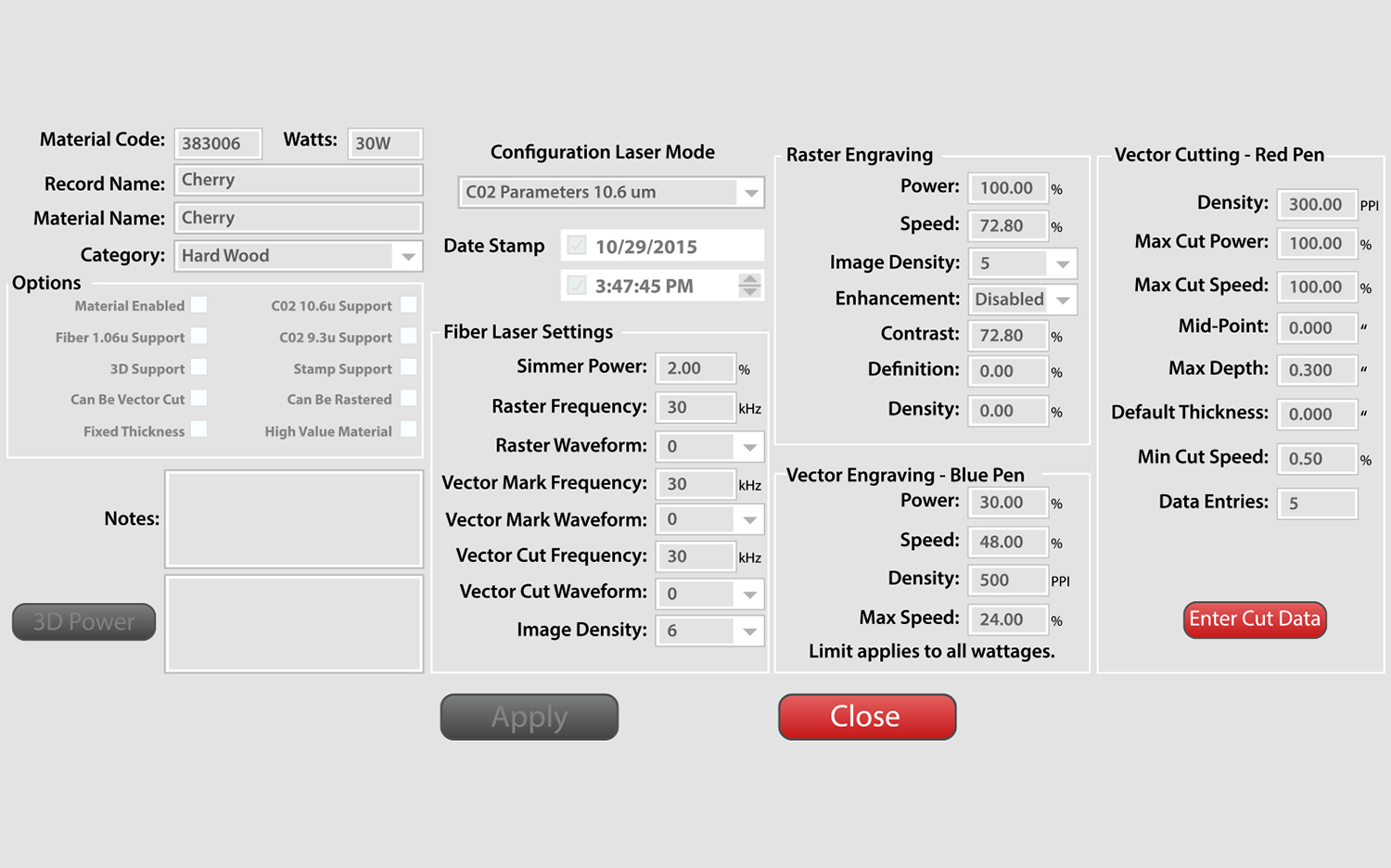 The Universal Control Panel enables you to manage and run files directly from your computer, stores files with the settings you used so you can run them time and again without needing to use the graphics software they were created in and monitors the condition of your laser system for diagnostic purposes.
VLS2.30
Work Area: 406 x 305 mm
Table Size: 476 x 368 mm
Max Part Size: 476 x 368 x 102 mm (WxHxD)
Overall Dimensions:

-with cart: 661 x 1118 x 635 mm
-without cart: 661 x 356 x 635 mm

Laser Options: 10, 25 & 30Watts
Weight: 39 - 42 Kg
Extraction cart not included as standard
VLS3.50
Work Area: 610 x 305mm
Table Size: 679 x 368mm
Max Part Size: 679 x 368 x 102mm (WxHxD)
Overall Dimensions: 914 x 991 x 927 mm
Laser Options : 10, 25, 30, 40 & 50 Watts
Weight : 50 - 56 Kg
Extraction cart not included as standard
Global Specifications
User interface - Five button keypad
Printer Control/Connection: Requires a dedicated PC with Windows 7/8/10 & USB 2.0 or higher connection
Exhaust Connections: One 76mm port.
Optional Accessories
Downdraft Honeycomb Cutting Table
Computer Controlled Compressed Air Unit
Air Assist Back Sweep
Air Assist Cone
Integrated Cart
Computer Controlled Air Cleaner/Cart
Rotary Fixture
High Power Density Focusing Optics (HPDFO)™
Lens Kit (1.5" or 2.0")
VLS Desktop Series Brochure
VLS Platform Series
Flexibility for Growing Businesses
The VLS Platform Series machines fill the gap between the Desktop Laser range and the Professional Series of machines.
The robust chassis provides a larger processing area giving greater flexibility when processing a wide range of laser cutting & engraving applications.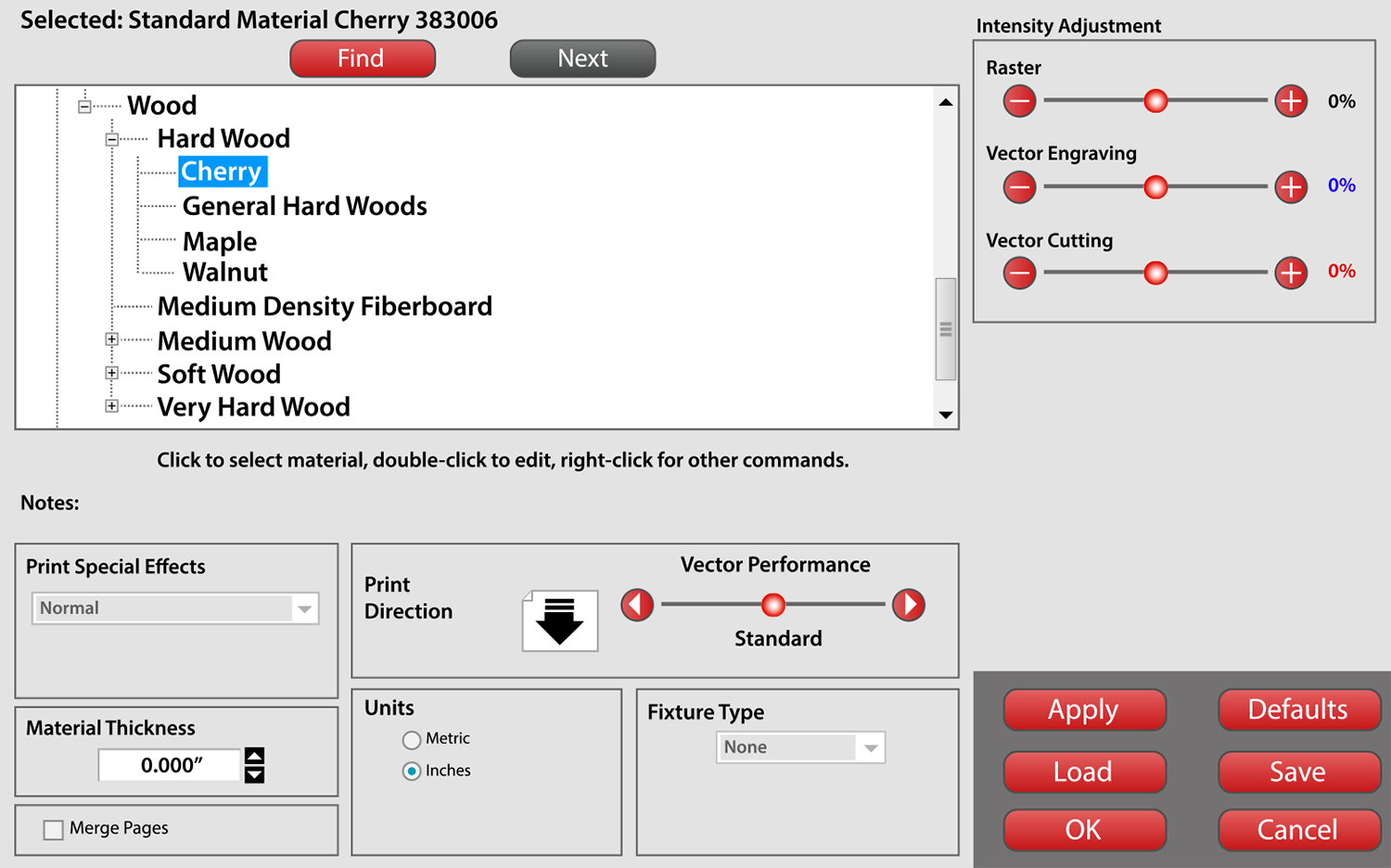 As with all Universal laser machines the VLS Platform systems come with the printer driver control software allowing you to work straight from any commonly used graphics application such as Corel Draw, Adobe Illustrator, Solidworks & 2D Design. No need for lengthy time consuming file conversion.
VLS3.60
Work Area: 610 x 305mm
Table Size: 737 x 432mm
Rotary Travel: 360° (max 8 inches diameter with 2.0 lens)
Max Part Size: 737 x 432 x 229mm (WxHxD)
Laser Options: 10, 25, 30, 40, 50 & 60 Watts
Weight: 107kg (235lbs)
Power Requirements: 110V/10A; 220V/5A 50/60Hz
Exhaust Connection: External exhaust required; one port is 100 mm in diameter
VLS6.60
Work Area: 813 x 457mm
Table Size: 940 x 584mm
Rotary Travel: 360° (max 8 inches diameter with 2.0 lens)
Max Part Size: 940 x 584 x 229mm (WxHxD)
Laser Options: 10, 25, 30, 40, 50 & 60 Watts
Weight: 147kg (325lbs)
Power Requirements: 110V/10A; 220V/5A 50/60Hz
External exhaust required; two ports each 100 mm in diameter
VLS4.60
Work Area: 610 x 457mm
Table Size: 737 x 432mm
Rotary Travel: 350 ° (max 8 inches diameter with 2.0 lens)
Max Part Size: 737 x 584 x 229mm (WxHxD)
Laser Options: 10, 25, 30, 40, 50 & 60 Watts
Weight: 122kg (270lbs)
Power Requirements: 110V/10A; 220V/5A 50/60Hz
Exhaust Connection: External exhaust required; one port is 100 mm in diameter
Optional Accessories
High Power Density Focusing Optics (HPDFO)™
Downdraft Honeycomb Cutting Table
Rotary Fixture Attachment
Manual Air Assist
Air Dryer
VLS Platform Series Brochure